Chancellor Jeremy Hunt is set to unveil tax cuts, measures to boost business investment and a tougher approach to welfare in his autumn statement on Wednesday.
The fall in inflation means "we have turned a corner", Treasury Chief Secretary Laura Trott said.
Official figures published on the eve of the Chancellor's statement show that although Government borrowing in October was higher than expected, the year-to-date figure is still below the amount the budget watchdog had forecast.
Mr Hunt has insisted he will be "responsible with the nation's finances", but his statement on Wednesday will "focus on how we boost business investment and get people back into work".
Ms Trott, the Chancellor's deputy in the Treasury, defended the plans to get people off welfare and into jobs, saying it is the "duty" of those who can work to do so.
The plans could see those with mental health or mobility problems told to search for work which is possible to do from home.
According to The Times, people could see their benefits reduced by £4,680 a year from 2025 as part of a significant tightening of welfare rules.
Ms Trott told Sky News: "I think that if you can work, as a principle you should work, and that is what the Government believes. That's been the thrust of all of our policies.
"Of course, there should be support for people to help them into work or to help them with issues that they're facing, but ultimately there is a duty on citizens that if they are able to go out to work, that's what they should do."
Prime Minister Rishi Sunak has raised expectations that the autumn statement will begin the process of reducing the tax burden, which is the highest for 70 years after the Government was forced to raise money to respond to Covid-19 and the energy price spike triggered by the Ukraine war.
He has met his self-imposed target of halving inflation in 2023, with the October figure showing the Consumer Prices Index at 4.6%, although that is still more than twice the Bank of England's goal of 2%.
Bank governor Andrew Bailey has warned it is "much too early" to say inflation has been beaten.
But Ms Trott told Times Radio: "We have turned a corner. Inflation has halved. That is really significant for people at home. We know how tough things have been.
"Real wages are, for three months, now ahead of inflation – again, that's really important to kind of making a difference to how people feel.
"We can now talk about tax cuts and focus on growth, and that is what we're going to be doing."
In a sign that a personal tax cut is on the table, Ms Trott told the BBC's Today programme the focus is on "cutting taxes for individuals".
Changes to national insurance or income tax have reportedly been considered, though nothing has been confirmed.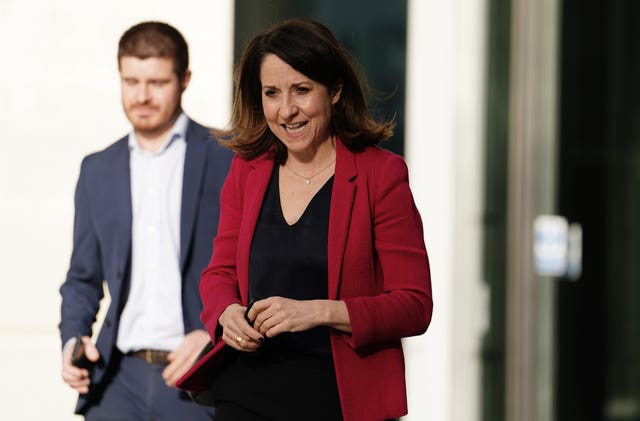 Figures from the Office for National Statistics (ONS) show public sector net borrowing stood at £14.9 billion last month, more than most economists had been pencilling in and higher than the £13.7 billion expected by the UK's fiscal watchdog, the Office for Budget Responsibility (OBR).
But despite the higher-than-forecast figures, financial year-to-date borrowing is still below official forecasts made last March, standing at £98.3 billion – £21.9 billion more than a year earlier, though less than the £115.2 billion forecast by the OBR.
The ONS said borrowing was pushed up in October by uprated benefits and cost-of-living payments, as well as £1.1 billion in interest payable on government debt.
Labour said the Tories are to blame for what Mr Sunak has dubbed the "national scandal" of working-age adults not in jobs.
Shadow work and pensions secretary Liz Kendall told Sky News: "It's very interesting to see Rishi Sunak railing against the fact millions of people are out of work due to long-term sickness, saying it's a scandal they've been written off. Well, who's done that?
"Being out of work is bad for individuals. It's bad for businesses, and it's bad for the economy, but it's happened under their watch."
Ms Kendall accused the Government of "desperately trying to wipe their hands for the last 13 years that they are responsible for".