Young offender institutions are "significantly more violent" than prisons holding adult men, the Chief Inspector of Prisons has warned.
HM Inspectorate of Prisons published two reports on Tuesday that it said "paint a bleak picture of youth custody in England and Wales".
The inspectorate said that while the number of children in custody continued to fall in 2022-23, levels of violence and self-harm rose by just over a quarter and a third respectively.
Chief Inspector of Prisons Charlie Taylor said it was "particularly disappointing" to see that relationships with staff have deteriorated over the past year.
The children in custody report by the inspectorate found that young offenders spent "far too long alone in their cells".
Almost a third (28%) of those who spend less than two hours unlocked each day are "doing absolutely nothing with their time in custody", the report said.
The inspectorate said it was therefore "unsurprising" that less than half of children reported feeling cared for by staff, and nearly a third did not have a single member of staff they trusted to help them if they had a problem.
It also found that two-thirds of the children in custody in 2022-3 reported having been in local authority care.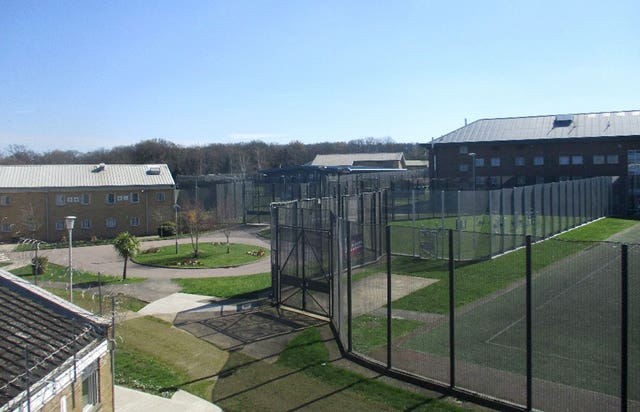 Mr Taylor said: "The youth estate is significantly more violent than prisons holding adult men.
"We are storing up real problems for the future by failing to help children learn better ways to manage frustration and conflict and giving them access to the education many of them have missed out on in their lives before they were incarcerated."
The children in custody report analysed survey data from inspections of five young offender institutions and one secure training centre published between April 2022 and March 2023.
Mr Taylor added that the inspectorate had "serious concerns" about the possible introduction of Pava incapacitant spray to children's establishments.
He said that basic activities to improve trust and behaviour "would be far more productive", adding that the idea of "adding something as drastic as Pava into the mix" would be a "very worrying step in the wrong direction".
A report from an inspection of Werrington Young Offender Institution, near Stoke, which was completed in August 2023 and also published on Tuesday, found that serious disorder had increased by 76% since the last inspection, only a year earlier, with multiple incidents requiring the deployment of national resources.
This included groups of boys trying to smash through doors to get to other children. Inspectors saw a classroom that could not be used with a damaged door and shards of broken glass following one such incident.
Mr Taylor told BBC Radio 4's Today programme that inspections at Werrington and also Cookham Wood Young Offender Institution, near Rochester, Kent, had revealed high levels of violence and self-harm, and "children locked in their cells for incredibly long periods of time".
He said: "The idea that this is going to rehabilitate people – that it's going to make them able to stop committing offences when they come out – is simply fanciful."
The inspectorate said children's establishments were "richly resourced" in terms of staff numbers – with Werrington employing 340 staff to care for just 89 children.
However, it added that the profile of staffing meant there were "plenty of senior managers" but a shortage of "frontline officers who should be working directly with children".
The inspectorate said half of the officers at Werrington were unavailable for duties at the time of inspection because they were unwell or had been injured in the course of their work.
A Ministry of Justice spokesperson said: "The number of children in custody has fallen by 79% since 2010 as a result of early intervention work and the wider use of robust community sentences.
"Those who remain have often committed the most serious offences and have exceptionally complex needs but thanks to our hardworking staff, self-harm has reduced in the youth estate by a fifth over the last year.
"We are recruiting a specialist youth justice workforce trained to work with extremely vulnerable children and rolling out improved education services, as we strive to help them turn their backs on crime for good."