Government borrowing increased by more than expected last month according to official figures, but left Chancellor Jeremy Hunt with headroom for planned tax cuts in Wednesday's autumn statement.
Economists said the latest borrowing data will mean the Chancellor "won't be able to resist the temptation to unveil a pre-election splash" of cuts.
The Office for National Statistics (ONS) said public sector net borrowing stood at £14.9 billion in October – £4.4 billion more than a year earlier and the second-highest October borrowing since monthly records began in 1993.
It was more than most economists had been pencilling in and higher than the £13.7 billion expected by the UK's fiscal watchdog, the Office for Budget Responsibility (OBR).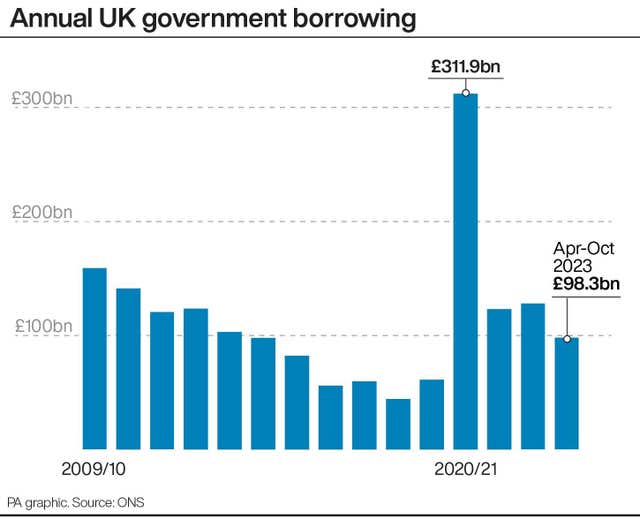 This marked the first time it has overshot the official forecasts this financial year.
The ONS also revised up borrowing figures for the first six months of the financial year to £83.4 billion from £81.7 billion previously estimated, due largely to weaker income and corporate tax receipts.
But despite the higher-than-forecast figures, borrowing over the financial year-to-date – £98.3 billion – is still £16.9 below what was predicted by the OBR.
It comes as the Government has set the stage for tax cuts in the autumn statement on Wednesday following intense pressure from within the Conservative Party.
Economists predicted that the OBR will revise down its total borrowing forecast by between £13 billion and £16 billion as a result, providing more financial headroom for the Chancellor.
Ruth Gregory, deputy chief UK economist at Capital Economics, said she expects the OBR to reveal that the Chancellor has a "decent buffer" of about £25 billion against his main fiscal rule – a policy set by Government to constrain decisions on spending.
She added: "With the election drawing nearer, the Chancellor surely won't be able to resist the temptation to unveil a pre-election splash."
However, Ellie Henderson, economist at Investec, said he will be "constrained in his giveaways" and may choose to hold back some cuts.
"His degree of fiscal wiggle room will depend on the Office for Budgetary Responsibility's assessment of the medium-term public finances and the extent to which he may want to hold some tax cuts back for next spring," she said.
On Tuesday, Mr Hunt said: "We met our pledge to halve inflation, but we must keep on supporting the Bank of England to drive inflation down to 2%.
"That means being responsible with the nation's finances.
"At my autumn statement tomorrow, I will focus on how we boost business investment and get people back into work to deliver the growth our country needs."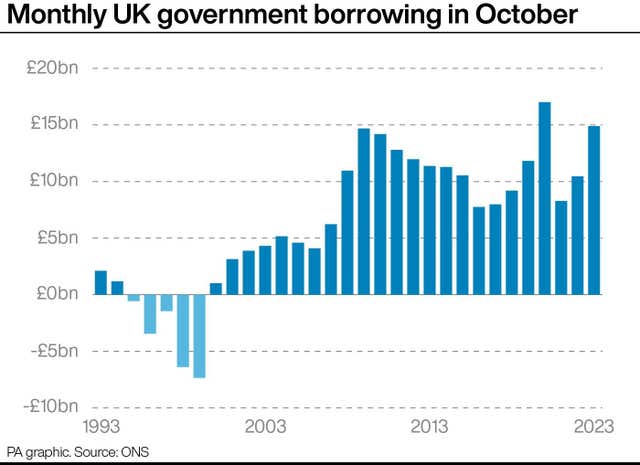 Prime Minister Rishi Sunak used a speech on Monday to promise tax cuts and pledged to "reward hard work" in what appeared to be a clear signal of intent ahead of the autumn statement.
The Government will no doubt be relieved that the borrowing data for the year to date is still running behind official forecasts, but the next set of OBR forecasts released alongside the autumn statement on Wednesday is expected to show upward revisions for following years, according to some economists.
Pantheon Macroeconomics expert Samuel Tombs said the latest ONS data shows that the task of returning the nation's public finances to a sustainable footing is "far from complete".
The ONS revealed that net debt stood at £2.64 trillion at the end of October, equalling about 97.8% of UK gross domestic product.
This is 2.3 percentage points higher than the same time last year and remains around the levels last seen in the early 1960s.
The ONS said borrowing was pushed up in October by uprated benefits and cost-of-living payments, as well as £1.1 billion in interest payable on Government debt – an October record high, although lower than recent peaks.
These factors offset the ending of energy support payments, which began in October last year.
Economists have also predicted that OBR will highlight that UK economic growth will surpass its previous forecast for this year.
The OBR predicted in March that the UK would avoid a recession but see Gross Domestic Product (GDP) edge 0.2% lower for 2023.
Investec said the watchdog is expected to point towards 0.5% GDP growth for the year, although pressure from inflation and interest rate hikes could lead to lower than expected growth in Q4 and in the first quarter of next year.